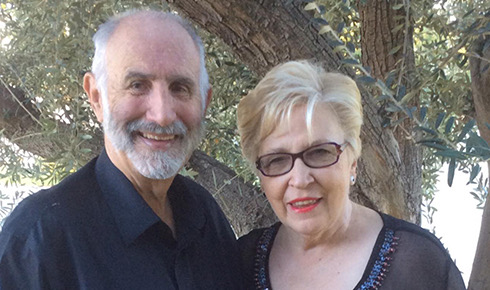 Jack Hamilton, longtime pastor, president of LIFE Bible College (now called Life Pacific University, LPU) and respected spiritual mentor, went to be with the Lord today. He was 82.
A friend and contemporary of Pastor Jack Hayford, Jack Hamilton helped further the mission of The King's University, and he had deep roots in The Foursquare Church. His associations in the movement played key roles in his salvation, education, meeting the woman who became his wife, and his ministerial career.
"It is with sad but grateful hearts that we acknowledge the departure of one of the most beloved leaders of our church," says President Randy Remington. "Jack Hamilton was a loyal servant of God and an inspiration to all who knew him. His generous investment in my life personally as a student at LIFE Bible College was one of intentional mentorship and personal sponsorship. His tireless service, devotion to the gospel, and faithfulness to his church and family leave a legacy that will last throughout eternity."
LPU President Angie Richey adds that the university's community is "deeply saddened" but they will remember him as an "exceptional leader and role model. He served with vision, competence and commitment, prioritizing the word of God and the spiritual formation of students. He leaves a rich legacy."
A native of Rock Island, Ill., at an early age Jack started attending the Moline Foursquare Church. The church was pastored for 50 years by noted Foursquare Pastor Charles Hollis and his wife, Ruth.
Later, while serving in the U.S. Army at Fort Bliss in El Paso, Texas, Jack attended El Paso Foursquare Church, pastored by Paul and Christine McEachern. After accepting Christ as his Savior under the McEacherns, soon after he began a correspondence course from LIFE. Thanks to the influence of the McEacherns and the Hollises, Jack enrolled for residential study at the college in 1961, graduating in 1965 with a Bachelor of Theology degree.
"Jack Hamilton was a loyal servant of God and an inspiration to all who knew him. His generous investment in my life personally as a student at LIFE Bible College was one of intentional mentorship and personal sponsorship." – President Randy Remington
Shortly after beginning his studies, Jack experienced a life-changing event when he met Carole Chambers, who worked at LIFE and as a secretary at Angelus Temple. Their romance blossomed while both sang together in the Angelus Temple choir, and they married in 1963, a match that would last for their lifetime together.
After college, the Hamiltons began their ministry in the newly formed Western Canada District as district youth directors. They later served on the pastoral staff of Kingsway Foursquare Church in Vancouver, British Columbia, and as pastors of Hastings Foursquare Church in Vancouver.
In 1970, Jack and Carole were appointed as pastors of the Santa Maria Foursquare Church in Santa Maria, Calif. They made a major impact there: Annual missionary offerings totaled $1,000 when they arrived and increased to more than $25,000 annually by their last full year in Santa Maria in 1981.
During his time at the church, Jack became president of the LIFE Alumni Association. In 1982, he became the college's fifth president, a role he would hold until 1992. Under Jack's capable leadership, in 1990 the school relocated from its original home next to Angelus Temple to San Dimas.
Foursquare's board of directors honored him with an honorary Doctor of Divinity degree in 1985. Two years later, despite his many duties at LIFE, Jack earned his master's degree from Azusa Pacific University.
Jack and Carole had three children: eldest son Jeff, who graduated from LIFE 25 years after his father and is lead pastor of Hills Church (Laguna Niguel Foursquare Church) in Laguna Hills, Calif.; son Brad, who also attended LIFE; and daughter J.J. Vercellono, who with her husband, Tim, serves as pastors of Real Life Church (Laconia NH Foursquare Church) in Laconia, N.H.
Angie Richey adds: "We send our condolences to his wife, Carole, the entire Hamilton family, and our extended Life Pacific University community. While we grieve, we do not mourn as those without hope, for we know he is in the full presence of our God in whom he firmly believed."
In addition to his wife, Carole, and three children, Jack is survived by 10 grandchildren.
East Coast Memorial
Nov. 6 at 2 p.m. EST
Real Life Church
Laconia, N.H.
Main Memorial Service
Nov. 15 at 11 a.m. PST
Life Pacific University
San Dimas, Calif.
In lieu of flowers, donations can be made to the Dr. Jack Hamilton Scholarship Fund at Life Pacific University.